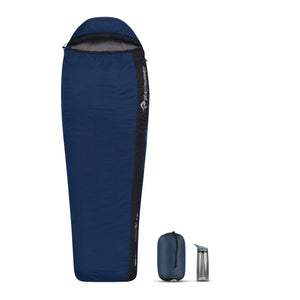 If you are new to outdoor recreation, or you only camp occasionally, the Trailhead™ synthetic mummy sleeping bag is a great value-oriented option. However, the modest price tag doesn't mean we've cut corners on comfort and versatility. Like all Sea to Summit synthetic mummy sleeping bags, the Trailhead™ utilizes WaveLoft™ construction to allow the insulation to expand out into air-trapping curves for maximum warmth.
As the temperature rises, the full-length zipper (which curves around through the foot box) allows you to sequentially increase ventilation to the point where the mummy sleeping bag can be opened flat and used as a quilt.
The tapered-rectangular mummy cut of the Trailhead™ gives you plenty of room to move, regardless of your sleeping position.
2 Season: 30°F (comfort range 30°F to 75°F)
Long: 2 lbs. 9 oz.