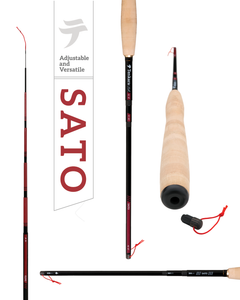 The Tenkara USA Sato™ rod is named after Mr. Ernest Satow, an avid mountaineer who was the first person to make a written record of tenkara. The Sato is a compact and lightweight tenkara rod. At its shorter length it is perfect for tighter streams, and at its full length it will be ideal when the stream opens up again or when you find a bigger pool to cast your fly.

With several years of design experience under our belt and feedback from our users, we feel we have achieved what we set out to do: give you a rod that is super light-weight, durable, versatile and feels very precise. Plus, we wanted to design a rod that would make it easy to answer "which tenkara rod should I get?"

The Sato™ has two patent pending features:
Triple-zoom: this allows you to use the rod at three different lengths - 10'8"/ 11'10"/12'9" (330/360/390cm). The average length for a tenkara rod is 12ft long, we like to recommend rods that are closer to 13ft, yet many people are intimidated by such long lengths for rods intended for smaller streams. So, we felt a rod with the 3 most common lengths would be an easy choice: short to ease you into tenkara, long to give you a taste of the advantages presented by a long tenkara rod. Keep your Plug ™ system (patent pending): We're very excited about this very simple yet innovative feature. After hearing that no one has ever been able to keep their tenkara rod plug for longer than a year we decided we should find a solution for you to never lose your plug again. We designed the "Keep your plug"™ system. Next time you go fishing, remove the plug from the top end of your rod and insert it into the hole at the bottom of your rod. The Sato™ will come with two plugs on the rod; please leave one at home in case you ever need it.