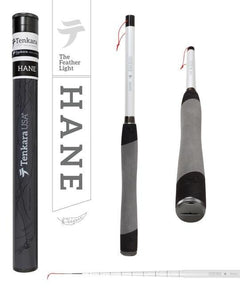 The Hane™ is a super compact all-around tenkara rod that will quickly become your favorite adventure rod. Measuring just under 15 inches when collapsed, but extending to 10ft 10in (330cm), the Hane fits nicely inside a small day pack, making this a superb tenkara rod for backpacking, bikefishing and other adventures. 
Whether you are targeting trout in a mountain stream, or bass in an urban pond, the Hane will work well. It's a rod that can tag along in a variety of conditions without compromising durability. The Hane is also a popular rod for kids.
We decided to make this rod white, a unique color in our lineup. The idea was to have a rod that will blend in well with open skies above. A black rod does a good job blending in with canopy, but its movement tends to stand out when fishing ponds and open meadow streams. The thin and less visible tip sections of the rod are matte black.