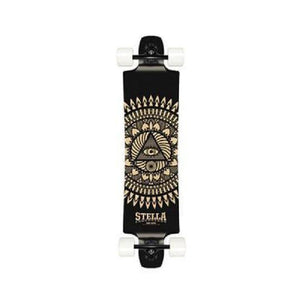 The twin drop down, top mounted uno dose freeride Uno Dose is the ultimate downhill longboard. The dark and sharp illuminati inspired design gives this board and extra mystical edge. Its a board that people will definitely be talking about a lot and grab the attention of many.
You will have plenty of space for footing, so even if you have a larger shoe size this board is for you.. The bi-directional symmetrical design makes sure that even after a 180 you can continue to ride without feeling you riding backwards.
You can get to high speed with this great drop down long board and still have a stable ride due to the lowered center of gravity.

You simply have to get this one if you are inspired by the illuminati or you do any downhill riding!