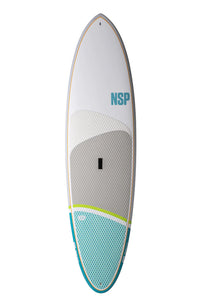 The Elements Allrounder is your ultimate allround SUP – a perfect blend of fun wave performance and flatwater paddling glide makes this board suitable for the two biggest applications in Stand-Up paddling.
DESIGN:
• Proven outline with semi pointed surf style nose with moderate nose lift, a forward wide point for stability and easy paddling.
• Single to double concave bottom and a light vee through the tail, generates speed quickly and maintains smooth flow from turn to turn.
• Fin box options to optimize the conditions or to suit your preferred surf fin set up.
• Available in the following technologies: CocoFlax, Elements and P2 Soft with eco-friendly bio-resin.
• From flatwater cruising to fun surf days at the beach – the NSP Allrounder series has you covered.
• Two plugs on deck to attach PFD (Personal Floatation Device) for 10'0″, 10'6″, 10'11″
• Nose insert for GoPro®
Elements Allrounder design features
ROUND TAIL
The round tail is a compromise between a big wave tail and a performance tail like the squash tail. That little extra volume compared to a pintail or swallow tail creates more lift, translating into a SUP that is faster and easier to turn.
More importantly, with its round, continuous curves, the water still wraps around this tail without getting released out the back too quickly, giving you hold.
FIVE-BOX FIN CLUSTER
The Elements Allrounder comes with a nylon 3-fin set, but the five- box fin cluster allows for unlimited tuning potential. So whatever your spot is looking like, set up your Allrounder to make the most out of your session.
Allrounders are available with twin tab fin boxes or with NSP's all-new FTU fin boxes (compatible with Futures fins). Each board is supplied with MFC designed nylon side fins and a center fin.
Upper Peninsula Delivery Only
We'll deliver kayaks, bikes, and hard sided stand up paddle boards over $400 for free within 50 miles of our Houghton or Marquette locations.  We offer delivery throughout the Upper Peninsula beyond 50 miles for $200. All orders outside of the U.P. will be canceled and refunded as we aren't able to ship them. If you have any questions please give us a call. We'd be happy to work with customers who don't live locally.
 Delivery Excludes Inflatable Stand UP Paddle Boards