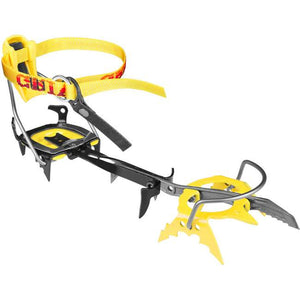 A well-known system which relies on a nylon speed lever in the rear and a stainless steel front bale to hold the boot. Quick to put on, these bindings are perfect for plastic mountaineering boots that have a rigid sole and substantial heel and toe welts. The stainless steel safety strap, which was invented by Grivel, is permanently mounted on the front bale and prevents total loss of the crampon should it be forced off the boot.
The lightest technical crampon in the world.
Replaceable hot drop-forged front point.
New central points to improve the stability while descending.