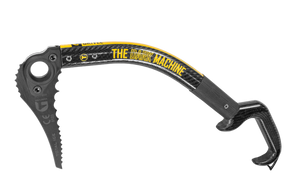 Ultimate technical ice axe which combines the most advanced technologies and materials into a modern tool, destined for great performances.
Designed for ice climbing, this aggressive technical ice axe has a G-bone carbon composite shaft and full carbon handle that ensure lightness and, at the same time, extreme toughness and durability.
Very light at only 490 grams, their geometry offers a higher balance point, that allows a much better swing.
Activities: Ice climbing / Dry tooling / Technical mountaineering
Materials/construction/technologies: steel blades and accessories, carbon composite shaft, full carbon handle, steel tip
Certification: CE EN 13089, type 2, UIAA 152
Recommended blades: Ice Vario, Total Ice Vario, Total Dry Vario, Katana Ice Vario, Dry Plus
Weight: 490 g (17,2 oz)
Size: 49 cm