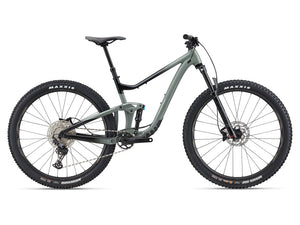 TURN UP THE HEAT ON TECHNICAL TRAILS, AND DO IT WITH MORE CONFIDENCE AND CONTROL. FEATURING UPDATED SUSPENSION AND ADJUSTABLE GEOMETRY, THIS FEISTY 29ER ADAPTS TO THE TERRAIN.
This versatile trail machine is built on a lightweight, stiff and super-strong ALUXX SL frameset that blends our latest Maestro suspension technology with adjustable frame geometry. The Advanced Forged Composite rocker arm has a flip chip that allows you to adjust frame geometry. Choose steeper or slacker head tube/seat tube angles and either a 35mm or 45mm bottom bracket drop to fine-tune the handling for your riding style and terrain. It's designed around a 130mm travel suspension fork, and the overall geometry has been tuned to maximize its performance on rugged trails.
Upper Peninsula Delivery Only
We'll deliver kayaks, bikes, and hard sided stand up paddle boards over $400 for free within 50 miles of our Houghton or Marquette locations.  We offer delivery throughout the Upper Peninsula beyond 50 miles for $200. All orders outside of the U.P. will be canceled and refunded as we aren't able to ship them. If you have any questions please give us a call. We'd be happy to work with customers who don't live locally.