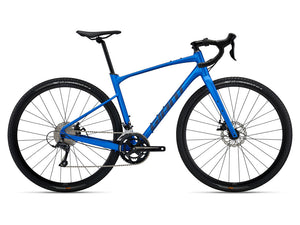 GRAVEL, DIRT AND SCENIC BACKROADS OFFER SOME OF THE BEST OPPORTUNITIES FOR FREEDOM AND ADVENTURE. THIS LIGHTWEIGHT ALUMINUM ALL-ROUNDER IS THE PERFECT WAY TO GET AWAY FROM IT ALL AND EXPLORE THE PLACES YOU'VE ALWAYS THOUGHT ABOUT BUT NEVER RIDDEN.
Whether you ride dirt roads, trails, gravel or a mix of everything, you want a bike that floats right through it, keeps you in control, and is comfortable for long days in the saddle. The Revolt delivers on all accounts. It features a lightweight ALUXX aluminum frame and composite fork, each engineered to balance stiffness and compliance. It comes with integrated components including the D-Fuse composite seatpost and Contact XR D-Fuse handlebar to further absorb road shocks and vibrations. The frame is integrated for disc brakes and it has clearance for larger tires up to 45mm.
Upper Peninsula Delivery Only
We'll deliver kayaks, bikes, and hard sided stand up paddle boards over $400 for free within 50 miles of our Houghton or Marquette locations.  We offer delivery throughout the Upper Peninsula beyond 50 miles for $200. All orders outside of the U.P. will be canceled and refunded as we aren't able to ship them. If you have any questions please give us a call. We'd be happy to work with customers who don't live locally.