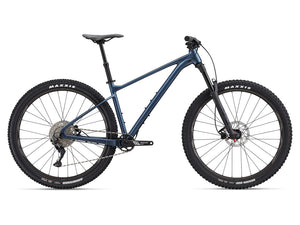 CRANK UP STEEP CLIMBS WITH SMOOTH EFFICIENCY. SWOOP DOWN SINGLETRACK DESCENTS WITH SPEED AND CONFIDENCE. THIS HARDTAIL 29ER DELIVERS A BALANCED RIDE ON XC TERRAIN.
Trail tuned design: Balanced geometry with a 75-degree seattube angle puts the rider in a powerful pedaling position on climbs, while a slacker 66-degree head angle boosts confidence and control on technical descents.
Responsive handling: Lightweight ALUXX SL aluminum hardtail frame offers agile acceleration and maneuverability to help riders climb, corner and hammer the flats with efficiency and speed.
Smooth control: Giant Crest 34 suspension fork with 130mm of travel absorbs roots, rocks and ruts. Grippy, high-volume tires boost traction on rugged terrain. And a dropper seatpost with handlebar remote lets you adjust saddle height on the fly for confident positioning on changing terrain.
Upper Peninsula Delivery Only
We'll deliver kayaks, bikes, and hard sided stand up paddle boards over $400 for free within 50 miles of our Houghton or Marquette locations.  We offer delivery throughout the Upper Peninsula beyond 50 miles for $200. All orders outside of the U.P. will be canceled and refunded as we aren't able to ship them. If you have any questions please give us a call. We'd be happy to work with customers who don't live locally.