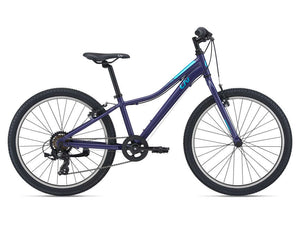 LIGHTWEIGHT AND EASY TO MANEUVER, ENCHANT PUTS HER ON A PATH TO ADVENTURE.
Designed to be light, agile, and easy to maneuver off-road. Fast-rolling 20- or 24-inch wheels and trail-ready tires make Enchant a fun, stable bike to help her build confidence and skills. Font and rear hand brakes that provide powerful stopping power. With its easy-to-use twist shifters, she'll feel excited and secure as she tackles new terrain.
Upper Peninsula Delivery Only
We'll deliver kayaks, bikes, and hard sided stand up paddle boards over $400 for free within 50 miles of our Houghton or Marquette locations.  We offer delivery throughout the Upper Peninsula beyond 50 miles for $200. All orders outside of the U.P. will be canceled and refunded as we aren't able to ship them. If you have any questions please give us a call. We'd be happy to work with customers who don't live locally.