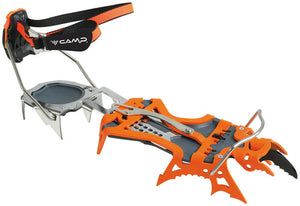 The Blade Runner represents the absolute top of the line in technical ice crampons. A wealth of innovative features combine to create a crampon that conforms to the ergonomics of modern boots, increases rigidity and performance, and adapts to conditions with a variety of front points and toe bail configurations. 
The heel slide integrates the linking bar with the heel piece for better torsional rigidity. This allows the Blade Runner to offer the best of both worlds by combining the power and stability of vertical frame crampons with the precision and ease of adjustment of horizontal frame designs. The entire heel slide is constructed from proprietary Sandvik Nanoflex® steel: an amazingly strong and tough stainless steel that allows for a reduction in the thickness of the frame from 2.75 mm to 1.8 mm, thereby reducing weight while simultaneously increasing strength and providing the right amount of longitudinal flexibility for a precise fit on modern boots with more extreme rocker.
The front platform is constructed from traditional chromoly steel alloy to absorb impact energy and maintain solid rigidity under foot. The elimination of connection joints leaves little room for play and reduces much of the flex that can make crampons feel insecure on technical terrain. The sophisticated geometry of the front points interact with the secondary points on the main frame for easy penetration and superior hold even in the most fickle conditions. Switching the front points between dual and mono, centered or offset, is made easy with the hook and notch system. The optional snow points convert the Blade Runner into all mountain machines with their beveled design and precise shape and spacing that maximizes purchase in hard snow. Delivered standard with both automatic and semi-auto toe bails. New anti-balling plates are more dynamic to help prevent snow build-up underfoot.

Sandvik Nanoflex® is an innovative steel alloy that is stronger and 25% harder than normal steel which allows for a significant reduction in the amount of metal used, thereby decreasing weight while maintaining strength.